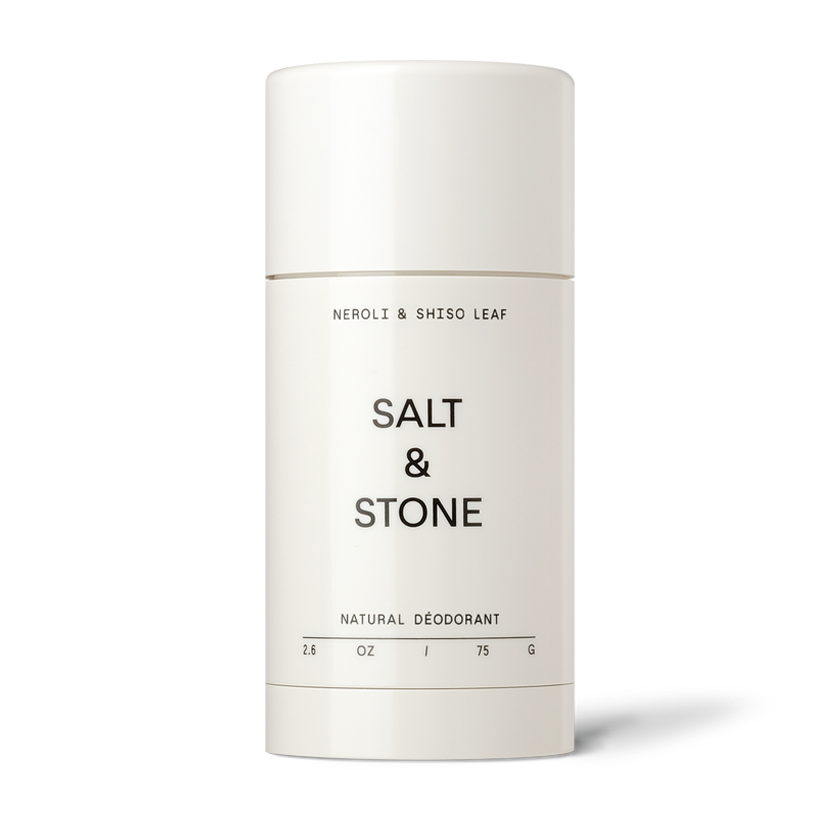 Salt + Stone Natural Deodorant - Neroli + Shisho
$39.90
Salt + Stone make 100% natural deodorants that actually work - our customers love them.
This Neroli + Shisho formulation is Extra Strength, for 24 hour protection. 
Seaweed extracts and hyaluronic acid moisturize the skin, while probiotics help neutralize odour.
Salt + Stone natural deodorants are all made without aluminum, alcohol, parabens, phthalates and dyes.
The invisible formula glides onto skin, without residue or transferring onto clothes.
Scent: Neroli + Shisho
Sweet Sicilian orange blossom and fresh, aromatic basil swirl across swathes of jasmine and green shiso leaf, settling to rest amidst soothing eucalyptus and warm amber.
Top - Neroli, Italian Bergamot
Heart - Basil, Tuberose, French Lavender
Base - Cypress, Eucalyptus, Shiso Leaf 
Key Natural Ingredients: 
Probiotics - Natural ferments to balance skin's microbiome for a healthy level of bacteria, often unbalanced by excessive sweating and activity. 

Spirulina - An antioxidant-rich ingredient that soothes and regenerates irritated skin exposed to the elements.

Hyaluronic Acid - A hydrating, water-loving molecule known for its capacity to attract and hold onto 1000x its weight in moisture.

And a moisturising oil blend of Coconut Oil, Shea Butter and Sunflower Seed Oil soften underarm skin.
Salt + Stone is a natural unisex skincare brand with a strong focus on natural, organic, and antioxidant-rich ingredients. Salt + Stone packaging is recyclable and made from recovered ocean plastic and other recycled materials.