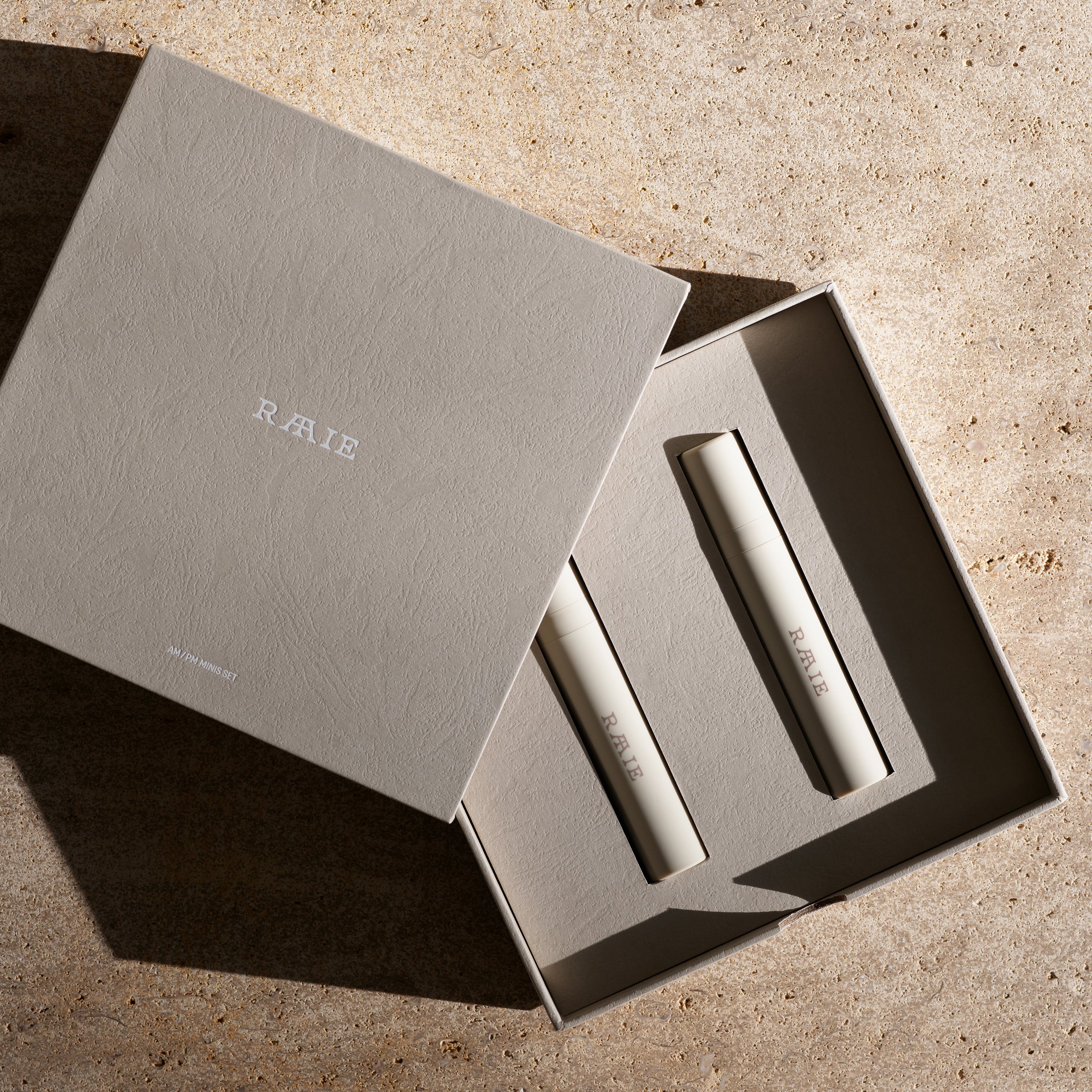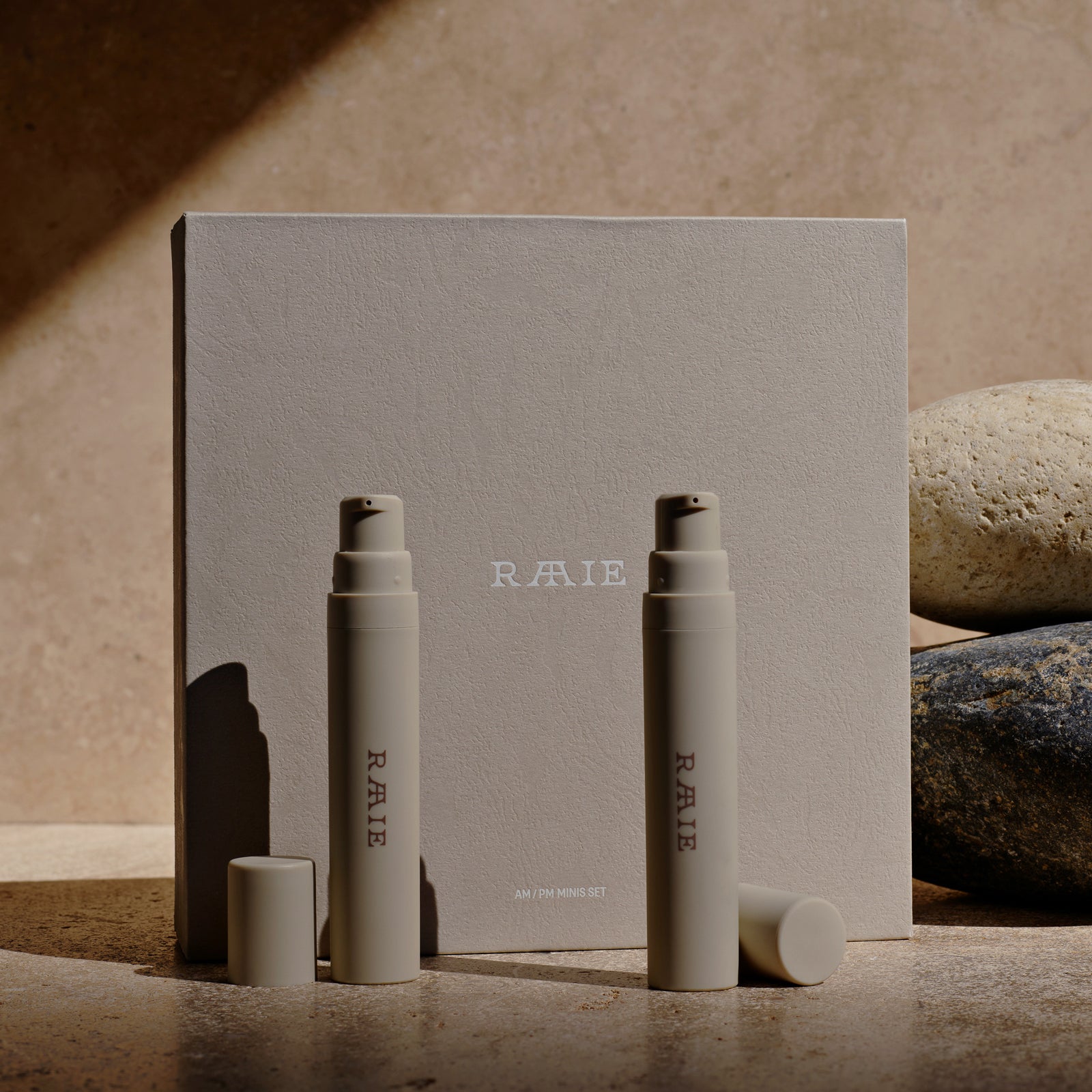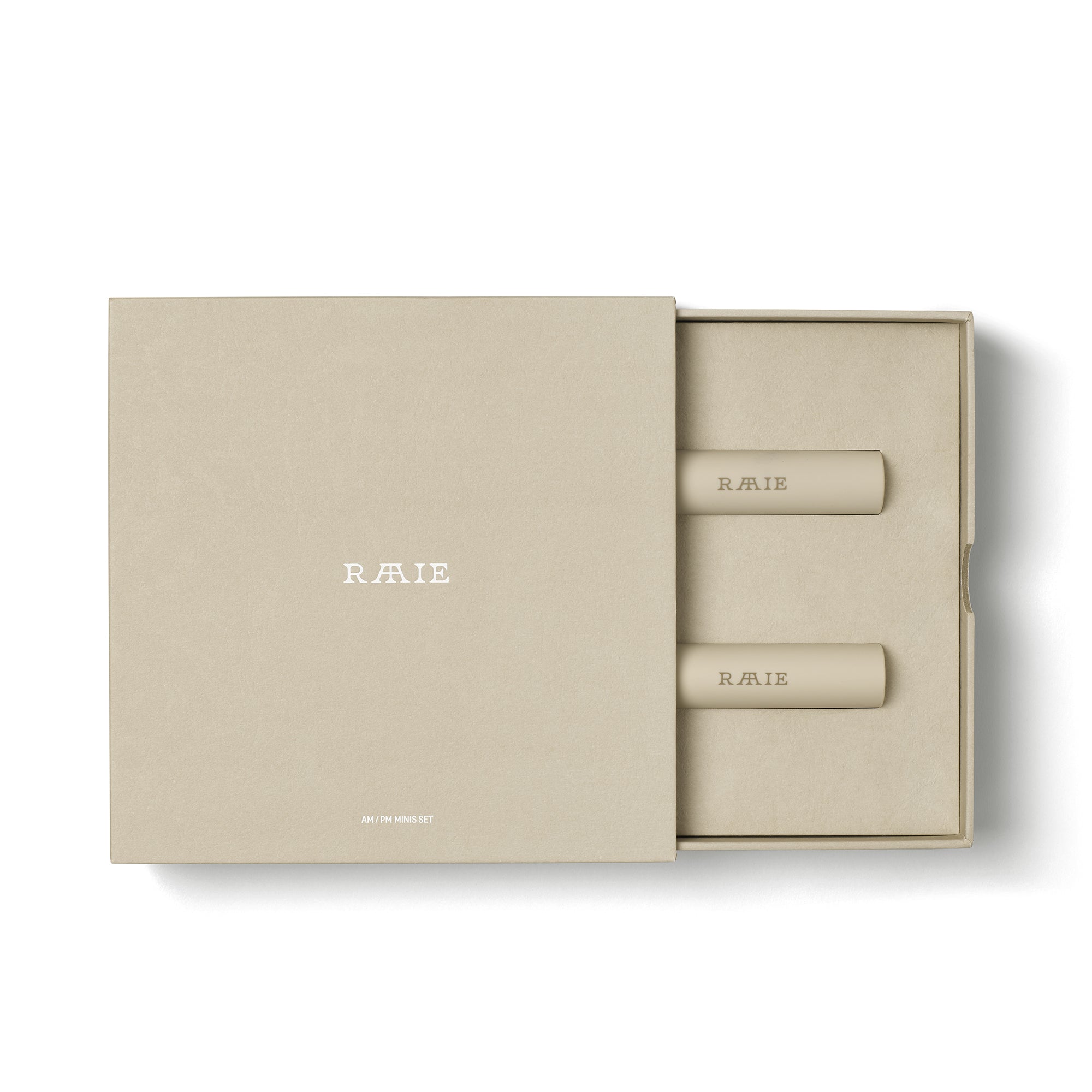 RAAIE - AM/PM Mini Set
$125.00
RAAIE's global multi-award-winning serums are now available as a Minis Set. 
10ml of each - enough for 6-8 weeks of daily use!
Perfect way to sample/trial Raaie's bestselling serums
Makes a gorgeous gift in the luxury stone-textured box
Ideal for travel
The Minis AM/PM Set contains Raaie's two potent, active, and skin-transforming serums, designed to work together:
MORNING DEW VITAMIN C SERUM
Get brighter, dewy radiant skin with this powerful, active botanical antioxidant serum. 
Reduces the look of fine lines and wrinkles immediately with a tightening and smoothing effect, plus also reduces redness, pigmentation, and uneven skin tone.
Two different types of Vitamin C (15% Vitamin C total) work to give you a dewy glow, even out skin tone, and protect against future ageing. 

The resilience of New Zealand botanicals, which are known for thriving in extreme UV environments, provide added protection; wild blackcurrants, sauvignon blanc grape seed, mamaku black fern, and kānuka work synergistically to further protect skin from daily damage.

Active Ingredients:
+ Wild blackcurrants
+ Sauvignon blanc grape seed
+ Mamaku black fern
+ Kānuka leaf
+ 15% vitamin C
+ Vitamin E
+ Ferulic acid 
+ 2 x hyaluronic acids for hydration
How to use: Apply to clean skin in the mornings, followed by your favourite moisturiser + SPF
YELLOW MOONBEAM RETINAL ELIXIR

Improves firmness, smoothness, and clarity. Customers also notice less redness, reduced pore size, and diminished fine lines and wrinkles.
Wake up to luminous skin with this overnight elixir that combines encapsulated, clean retinal, along with natural forms of vitamin A - bakuchiol and alpine rosehip – that work synergistically to supercharge cellular turnover and reveal radiant new cells for a youthful glow.
Healing New Zealand botanicals such as antarctic sea algae, alpine rosehip and harakeke native flaxseed are added along with clinically proven actives; alpha tocopherol (vitamin E), Squalane, and niacinamide (vitamin B3) to refine skin, making pores look smaller and improving skin texture.

How to use: After washing your face at night, wait a few minutes until your skin is completely dry, then apply over your face and neck. When it feels like it's all soaked in, follow with your favourite moisturiser. Do not use if pregnant. New to retinoids? Start out using it every third day for two weeks, then every other day for two weeks, gradually working your way up to nightly use.
Active Ingredients:
+ Antarctic sea algae
+ Alpine rosehip 
+ Harakeke native flax
+ Retinal
+ Bakuchiol
+ Niacinamide
+ Squalane
+ Vitamin E
+ 2 x hyaluronic acids